The weather is nice and people flood the streets to enjoy life. After nearly two years of Covid-19 it was the first day where the world felt normal again. At least for a while.
We want back to my home village near Tübingen to visit my parents again. Even though the weather was not expected to be too be good, we had brillant weather. My mum organized a Stocherkahn trip on the Neckar. It is by far the best way of enjoying a day in Tübingen.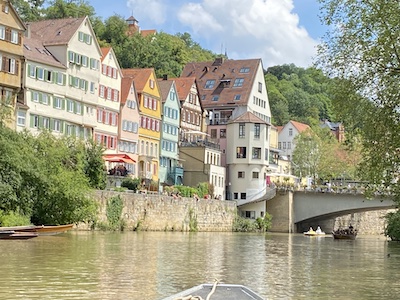 The Stocherkahn is like punting in Cambridge (UK). It is a long narrow boat for roughly sixteen people. You sit along the sides of the boat and there is one person who is at the back of the boat who has a long pole with a metal pin at the end. With this pole you push the boat along the river and steer it. Both in Tübingen and Cambridge the job of maneuvering the boats is carried out by students of the university. I was told that it takes roughly a year until you properly manage to steer the boats.

For tourists it is a very nice event if you happen to be there between May and early September.
We had a tip up the the end of the Neckar-Isle and back which took roughly an hour. Our kids were also allowed to steer a bit and they had a really good time.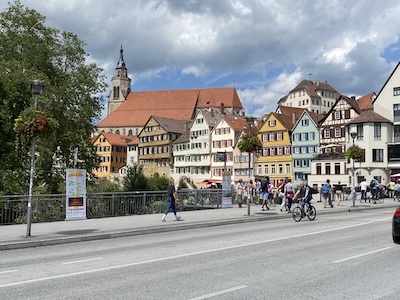 After that we went into a beer-garden next to the Neckar and had a nice Swabian meal.
If you visit Tübingen you should also see the nice old part of the town just next to the Neckar it is definitively worth a visit. Best you get a guided tour, but I think you have to plan this ahead of time as there are no regular tours.
The atmosphere in Tübingen is unlike other cities in Germany. It is a nice mix locals that lived there for generations, students from all over the country or even the whole world and you have a lot of culturally interested people who foster the local theaters and cultural events. Before Covid there was a very lively cultural life for the size of the city which is just below 100,000 inhabitants.

Enjoy your time in Tübingen.